Cleek, Dunmore, Gum, Hill, Stephenson, Suit Family - Family Card
m.
3 Jan 1914, Crawford County, AR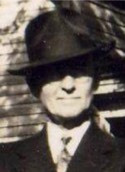 b.
16 Jan 1894, Combs, Madison County, AR
bur.
aft 26 Jan 1969, Turkey Creek Cemetery, Hughes Springs, Cass County, TX
occ.
owned and operated a cattle ranch, he was formally with a feed store; owned a drug store in Dyer, AR; Farmer; Merchant, Grocery Store
cen.
1900, Mill Creek, Madison County, AR